[This post contains one spoiler for Thor: Ragnarok.]
I saw Thor: Ragnarok this weekend and really enjoyed it. I'm not going to review it cause you already know whether you're going to see it or not.
It did introduce one of my favorite concepts from the comics, though it did it more or less in passing and failed (as the movies often do) to explore or address the implications of it.
In Thor: Ragnarok, Bruce Banner finds he has been under and living as the Hulk for multiple years and he has this moment of deep fear. While he used to feel both he and Hulk each had a hand on the wheel, he said, he feels like this time "Hulk was in the driver's seat and I was in the trunk." The tension between Hulk and Banner having to share one body and having totally contrary needs, goals and pleasures is one of the things I find most fascinating about the character(s).
Bruce Banner in Marvel comics is a bitter, bitter man (when he's alive, which is a whole other discussion which we'll sigh and file under "because comics"). He resents the Hulk for taking huge swaths of his life. He fears the return of the Hulk as this force in himself he can't control or make decisions about.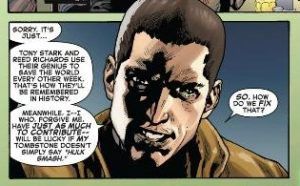 It's a really excellent metaphor for living with a mental illness. Mark Waid, the writer of some of my favorite Hulk stories explicitely compares it to managing a chronic health condition. If you can't kill it, you have to find a way to live with it as best as possible.
One of the things I hate the most about my depression is the time and energy it steals from me. I think about where I could have been and what I could have achieved if I wasn't constantly battling with this force inside of me that tries to make my decisions.
It's a chronic thing I have to manage and figure out how to live with. There have been times it takes up so many resources I feel like the only thing I'm getting done is staying alive. It's demoralizing.
Bruce Banner spent decades in the comics universe trying to figure out how to get rid of the Hulk. He evenutally realizes it's not possible and starts to try to figure out how to manage it. And to manage his condition, he seeks help. He knows he can't do it alone. The Hulk, by definition, is out of his control.
That doesn't mean he has to be outside all control.
I mean, the metaphor does break down. I only wish my depression gave me near-invincibility and near-infinite strength as powers instead of "has to berate myself for 45 minutes to get out of bed" or "doesn't think I deserve to eat" powers.
But even one of the ten smartest people in the Marvel universe knows you can't go it alone.